5 Food That Will Make Your Kids Strong, Smart & Beautiful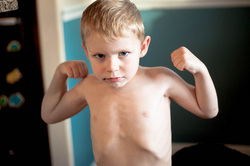 Healthy Bodies Come From Healthy Foods
Eggs - a great way to start the day. Eggs provide a variety of important nutrients, especially the yolk. Egg fat is good fat for healthy bodies.
Water - the healthiest drink ever.
Nuts & Seeds - serve them up with fruit or sprinkled on a dish to add healthy fats and proteins. 'Larabars' are a great alternative to the junky snack bars in most stores. They taste great and have nothing more than nuts, fruit, and yummy spices.
Homemade Smoothies - throw some frozen fruit in a blender with a little water or good milk or juice for a quick and tasty treat. Beats anything you'll find in the store.
Fruits & Vegetables - pound for pound, the most nutritious food in the world. Sneak them into other foods if you have to. Make them fun and kids will eat them.
5 Foods that Actually Won't:
Cereal - refined grains, sweeteners, and colorful chemicals are the perfect recipe for imperfect kids. At least choose a better version and add some healthy nuts & fruit.
Milk - that is, most milk in the store. Highly processed to reduce its fat (and vitamins), concentrate its sugars, and damage its proteins. Don't forget the added hormones & antibiotics. Whole organic milk is a better choice, but children don't need milk to be healthy.
Snack Bars - most snack bars have the same junky cocktail of sweeteners, refined grains & chemicals as cereals. Try 'Larabars'.
Sugary Drinks - this includes pop, sports drinks, flavored beverages, and even most juice. High in sweeteners and chemicals, but low in nutrients.
Yogurt - this classic "health food" is usually loaded with more sugars per ounce than pop. Look for plain whole yogurt & add your own fruit, nuts or seeds, and honey for sweetness.
---
---