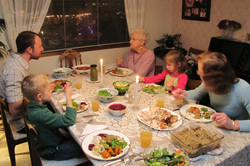 From its beneficial effect on diabetes to reducing weight gain, a recent study confirmed that eating more homemade meals is good for your health.
Researchers "analyzed data from nearly 58,000 women in the Nurses' Health Study and more than 41,000 men in the Health Professionals Follow-up Study and followed for up to 36 years."
Results showed a significant health benefit from eating homemade meals instead of eating out.
"People who ate about two homemade lunches or dinners each day — or about 11-14 meals a week — had a 13 percent lower risk of developing Type 2 diabetes compared to people who ate less than six homemade lunches or dinners a week." There was also significantly less weight gain over the years for those eating more homemade meals.
With the holidays coming soon, it's time to get cooking. Homemade meals help you take control of what your family is eating, and avoid hidden junk that often sneaks into packaged or processed foods. The more home-cooked meals you eat, the better.
Cooking at home can help you maintain healthy weight, avoid diabetes, and help with a variety of other health conditions.