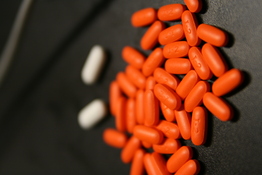 Here's the latest eye-opening research on diet, low back treatment, bariatric surgery, and cholesterol meds:
Low-carb Diet Better Than Low-fat Diet for Weight Loss and Heart Health
Researchers reviewed 17 trials including a total of
1797 patients comparing those on a low fat diet and those on a low carbohydrate diet. The low-carb diet was associated with significantly greater weight loss and significantly lower risk of "atherosclerotic cardiovascular disease events." The low-carb group showed more improvement in blood pressure, HDL cholesterol, and triglyceride levels.
If you want to lose weight and reduce your risk of heart problems, you are better off cutting carbs (sugars, grains, etc.) and eating good fats.
Pain Killers and Muscle Relaxers No More Benefit for Acute Low Back Pain
When going to the ER for severe back pain, you're likely to get a variety of medication thrown at you before you're sent back home: anti-inflammatories (naproxen), pain killers (percoset), and muscle relaxers (cyclobenzaprine). Researchers looked at whether taking all of these medications actually provide much benefit in low back pain patients without significant trauma or leg problems. Results showed no improved function or pain reduction from adding pain killers or muscle relaxers. They recommended patients only be given naproxen to reduce inflammation.



Every medication carries risks and combinations of medications carry additional risks. Avoid unnecessary ineffective medications whenever possible and start with safe and effective conservative treatment like chiropractic for low back pain.



Increased Rates of Suicide After Bariatric Surgery


Losing weight can be extremely difficult for the obese, and the promise of a quick fix with bariatric surgery (stomach stapling, stomach banding, stomach/intestine bypass) can be irresistible.

Bariatric surgery patients frequently experience side-effects, but now researchers analyzing almost 9000 bariatric surgery patients have confirmed worse news. These patients that are already at increased risk for suicide, are even more likely to commit suicide or "self harm" after having surgery compared to before surgery.



Every effort should be made to achieve weight loss without surgical intervention. Anti-inflammation eating is the best place to start.



No Calcium in Your Arteries = No Need for Statin Cholesterol Meds

Medpage Today reported on a recent study
that tested patients to determine how much calcium they have in their arteries and looked at their risk of cardiovascular problems. Based on the research, Medpage reports, "People at intermediate risk who would prefer not to take a pill can safely avoid statins if they have a zero calcium score [no calcium in the arteries], the new findings suggest."
"The study raises the possibility that about
half of people who are eligible to take them might now avoid taking statins
. This is particularly important because, under the current guidelines, statins are either recommended or may be considered for almost two-thirds of the U.S. adult population."
Recent guidelines had indicated patients with cardiovascular risk factors should be taking cholesterol lowering medications even if they don't have high cholesterol. This study provides further information showing that additional information could help prevent prescribing statins to two-thirds of Americans. Without calcium buildup in the arteries, the risk of a heart problem is low even when some other risk factors are present. It's best for these patients to eat better and be active, avoiding the side-effects of statin use.