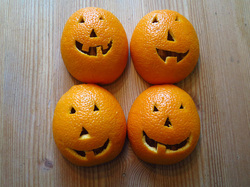 The sweetest holiday of the year is almost here and if you don't want to end up dealing with an aftermath of boogery noses and coughing kids, it's time to get planning for Halloween. It's no coincidence that Halloween welcomes in cold & flu season. If you can limit your children's sugar intake this holiday, you'll also limit their risk of illness afterwards.
Try some of our tips and tricks to treat your children to healthier Halloween fun.

5 Healthy Treats for Trick-or-Treaters
Dark Chocolate - a sweet treat that avoids the extra sugars and junk in most milk chocolate candy.

Honey Sticks - what kid doesn't enjoy a honey stick? Honey is a natural sugar that the body can handle better than processed sugars.

Pumped-Up Popcorn - cook up some popcorn in a little coconut oil and add some spices or dark chocolate for a fun flavor.

Chocolate Covered Fruit or Nuts - a piece of fruit or bag of nuts may get returned, so add some dark chocolate for a nice treat.
Lara Bars - our favorite snack bar comes in flavors like apple pie and cashew cookie, but only includes fruit, nuts, seeds, and spices. They have small snack size mini-bars that would be a good choice. Watch out for the new types that include sweeteners.
Click here to check out more healthy and fun ideas for your Halloween party.