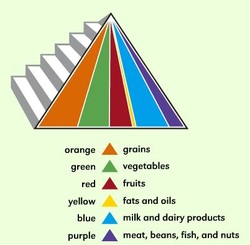 It's time to
update the US Dietary Guidelines
(remember the good old food pyramid?) and for the first time in about 40 years, "experts" state it's OK to eat cholesterol again! It's time to celebrate with cheesy eggs cooked in butter and a side of shrimp. Not so fast...dieticians may no longer be afraid of cholesterol, but they still fear saturated fat.
High-cholesterol foods like eggs are healthy
Once again, experts eventually have to follow the science, which shows eating cholesterol has little impact on blood cholesterol levels - research names sugar and refined grains as the real culprit. However, experts aren't ready to believe the abundance of scientific evidence that saturated fats have no effect on heart disease or other health issues. Saturated fats are still just too scary after so many years of warnings, so they still recommend limited intake.

The most important limit is sugar

Another historic change is the first specific limit for sugar. It's not as good as the World Health Organization's recommendation of 6 teaspoons or less each day, but the recommendation of 12 teaspoons of sugar or less each day is a step in the right direction. What does 6-12 teaspoons of sugar equate to? One cup of "fruit" flavored yogurt would take you over the 6 teaspoon limit. One 20oz of Minute Made orange juice would hit the 12 teaspoon limit, and one 20oz coke would take you over it. Prepare for a barrage of artificial sweetener & diet drink ads.



While experts are still overly concerned about saturated fats and animal meat, these recommendations are an improvement over decades of bad advice. We can all agree on the importance of eating less processed food and more whole foods - good quality meats, vegetables, fruits, nuts & seeds, good fats, etc. Maybe in another 5 years, US Diet Guidelines will be even better.