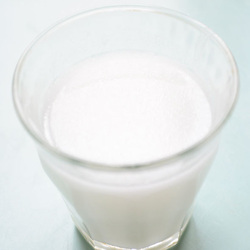 We've all heard milk "does a body good" because milk "builds strong bones." But that has never been tested...until now. Milk was assumed to be good for bone health because it provides a source of calcium, a key component of bone.
However,
a recent study of over 100,000 people showed a link between high milk consumption and INCREASED risk of bone fractures, mortality, and inflammation
.
The authors of the study noted milk "might possibly be harmful to skeletal and general health."
It is possible that milk didn't create more health problems; instead those with more health problems chose to drink more milk. But this explanation is less likely when considering what else the researchers discovered: fermented dairy reduced risks of fracture or other health problems.

While drinking milk increased the risk of fractures and mortality, consuming fermented dairy reduced the risk of fractures and other health problems.
Healthier fermented forms of dairy include yogurt, cheeses, kefir, cultured buttermilk, sour cream, and others. The natural fermentation process is thought to make milk healthier by improving digestibility, reducing milk sugars, and providing beneficial bacteria (probiotics). Fermentation has also been found to generate vitamin K2 (a beneficial nutrient not found in milk).



It's also important to recognize the current over-processing of milk with high heat pasteurization, homogenization, fat extraction, and other techniques that reduce milk's nutrient content or nutrient availability. For those who still want to sport a milk

mustache, try choosing the least processed, preferably organic, form of fermented dairy you can find. If you're looking for a source of calcium, try dark leafy greens and
don't worry about trying to drink more milk.