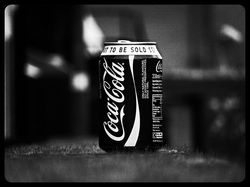 When sales are slipping because overweight Americans realize they shouldn't be chugging a can of high fructose corn syrup each day, it's time for plan B: covertly pay nutritionists to recommend mini coke as a "healthy snack."
There's no limit to what junkfood companies will do to entice customers to consume their product. A reporter from the Associated Press recently revealed Coca-Cola's tactics to lure customers into drinking coke. Coke has been paying nutritionists and dieticians to write articles during Heart Health Month in which they recommend drinking coke.

A Coca-Cola spokesman even referred to the nutritionists as "paid talent." While they should be free to share their uneducated/paid opinion with the public, the articles don't make it clear that the nutritionists were paid by Coke. Someone thinking they have found independent dietary advice is actually just reading an ad that Coke paid for without knowing it.

A mini Coke is not healthy, just as a mini cigarette is not healthy. Beware what you read and try to choose reliable sources for your information. Your health depends on it.