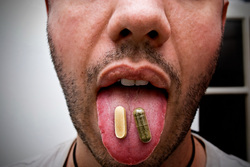 The
New York Times
reported, "The New York State attorney general's office accused four major retailers on Monday of selling fraudulent and potentially dangerous herbal supplements and demanded that they remove the products from their shelves.
The authorities said they had conducted tests on top-selling store brands of herbal supplements at four national retailers — GNC, Target, Walgreens and Walmart — and found that four out of five of the products did not contain any of the herbs on their labels. The tests showed that pills labeled medicinal herbs often contained little more than cheap fillers like powdered rice, asparagus and houseplants, and in some cases substances that could be dangerous to those with allergies."
Consumers are often drawn to the cheap prices offered by big retailers, but when it comes to supplements you really get what you pay for. Even those supplements containing the proper ingredients, may be using lower quality versions that the body cannot use as well.
We recommend consumers beware of cheap supplements sold at major retailers. The stores are more concerned about offering a great deal, than a quality product that will benefit someone's health.
We use supplements from companies we trust like Standard Process and Carlson's, and recommend you do the same.
Read the rest of the New York Times article here.