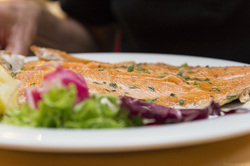 Experts have warned mothers about eating fish during pregnancy due to mercury exposure, but a recent study indicated greater harm associated with eating grains and their oils due to high omega-6 content.
Researchers studied the babies of women frequently eating fish during pregnancy and looked at infant development scores to determine the health of the children.
The babies of women consuming fish regularly had healthy developmental scores and seemed to experience a protective affect from the good omega-3 fish fats that outweighed any harm from mercury exposure.
Mercury levels only showed a negative effect on health for the children of mothers who had higher levels of omega-6 fats in their blood. Common sources of inflammatory omega-6 fats include grains, beans, and their oils (canola, soybean, sunflower, "vegetable", cottonseed, margarine, shortening, etc.).
Grain-fed animals like conventionally raised beef, chicken, and pork also provide more omega-6 fats.
This study confirms that pregnant mothers should not be afraid to include fish in the diet, but avoid common sources of omega-6 fats. Eat vegetables, fruits, nuts, good fats (olive oil, coconut oil, butter), and grass-fed or pasture-raised meats for a healthy diet.
Click here are the best and worst fish to eat.
Read more about the research on pregnancy and eating fish at Medpage.