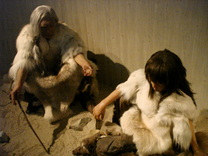 Modern health problems are related to modern lifestyles, not modern genes. Modern humans have essentially the same genes we did thousands of years ago, and those genes provide our bodies with the blueprints to be strong, smart, and beautiful...as long as we continue the ancient habits that turn those beautiful genes on.
Research has confirmed the following tips have amazing health benefits beyond anything modern medicine can provide. Make this your healthiest year yet by living like a caveman (except for the cave). Just think - what would Caveman do?
Drink the best beverage ever created: water! Caveman no drink sweetened sodas and teas, flavored waters, sports drinks, and energy drinks. He may have enjoyed a seasonal crushed fruit smoothie or occasional fermented rotting fruit beverage (puddle of wine anyone?).
Get moving. Caveman may not have zumba-ed or yoga-ed but he may have line danced. Whether it's walking, swimming, cycling, lifting, dancing, climbing, gardening, skipping...just get moving on a regular basis. And occasionally do something more intense.
Breathe like a caveman. Do you breathe with your chest or with your belly? We're pretty sure Caveman didn't worry about sucking in his gut to look good. Stop sucking in your gut, and take deep belly breathes that fill your lungs with oxygen.
Sleep or find time for quiet restfulness. When it's dark, sleep. When you're tired, sleep. When you don't feel good, sleep. When you're at work...wait...Caveman did not have a boss paying him to be awake. A few minutes of quite time and deep breathing at work can also be beneficial.
Hug a tree. Caveman spent a lot of time in nature. He didn't really have another option. Go outside when you can, and bring outside in when you can't.
Eat like a caveman. Eat cooked and raw whole foods grown naturally without chemicals - vegetables, fruits, meats/eggs, nuts, seeds, mushrooms, and herbs. Would Caveman recognize what you're eating?

Get adjusted. Anthropologists in North Eastern Africa recently found what they believe to be the oldest fossilized remnants of face paper dating back to 50,000 years ago. It was found near a large stone about the size of a table. Not really, but the oldest form of treatment surely would have involved one caveman helping another by using his hands.

The secrets to a healthy year are now yours. Live the way our genes designed for. Live like a caveman. If you need some help, give us a call.