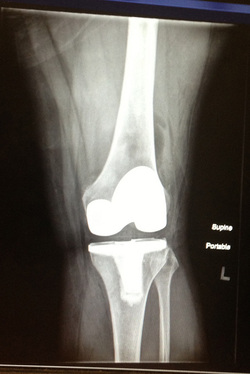 While Celebrex is commonly prescribed as a medication for knee pain related to arthritis,
Medpage Today reports on a recent study that has found Glucosamine Chondroitin supplements to be just as effective for treating osteoarthritis of the knee
:
"In a clinical trial known as MOVES that included 606 patients with moderate-to-severe pain, 6 months of treatment with the dietary supplements was associated with a 50.1% decrease in pain...compared with a 50.2% decrease among patients given celecoxib, according to

Marc C. Hochberg, MD

, of the University of Maryland School of Medicine in Baltimore, and colleagues."
Prior studies comparing Glucosamine Chondroitin to Celebrex had similarly found that the supplements were as effective as the medication, especially for patients with moderate-to-severe pain. Researchers also found that Glucosamine Chondroitin can reduce narrowing of the knee joint which occurs over time with arthritis (leading to bone on bone).
This is especially good news since Celebrex has been associated with cardiovascular, gastrointestinal, and kidney problems. Based on the research, Glucosamine Chondroitin provides a safer alternative for knee pain related to arthritis, but should be taken daily for at least 6 months (or longer to reduce narrowing of joint space).