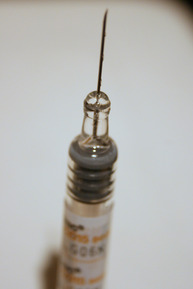 With the CDC announcing this year's flu vaccine is less effective than usual, some medical experts are predicting a bad flu season. That means more cases of flu and those with weakened immune systems dealing with bothersome symptoms.
What's a doctor to do? Prescribe Tamiflu is they don't read research.


Dr. Andrew Buelt (DO) recently wrote an
article for Medpage Today
about doctors continuing to prescribe Tamiflu to treat the flu when the research shows no significant benefit. Here are some excerpts:
"Oseltamivir, brand name Tamiflu, was released onto the market in 1999 for the treatment of influenza...
It's easy to see why everyone thought this was a wonder drug. A meta-analysis...concluded that "Oseltamivir treatment of influenza illness reduces LRTCs [lower respiratory tract complications], antibiotic use, and hospitalization in both healthy and 'at-risk' adults."
However, the same authors (Kaiser L, et al) also said acute bronchitis requires antibiotic use, which we know it doesn't, and that
eight of the 10 trials were unpublished
or published only in abstract form. Finally, 68% of the randomized patients tested positive for influenza when, on average, only about 14% of those in a given flu season test positive,
according to U.S. virological surveillance data
.
When Tom Jefferson, MD, of the Cochrane Review, asked for the clinical studies and full research, he was turned away. This started a 4-year stall by Roche, makers of Tamiflu. For those of you who are interested in the exchange, you
should follow the paper trail on The BMJ
website...
Finally, Roche started to release the clinical studies.
First, a report with access to some of the full clinical data concluded "
there is no evidence that oseltamivir reduces the likelihood of hospitalization, pneumonia, or combined outcome of pneumonia
." And what was more shocking was that this trial, WV15912, which took 401 adults with at least one cardiac or respiratory condition,
had an end result of a nonsignificant 1-hour reduction in symptoms
. I repeat only 1 hour, only 60 minutes, only 3,600 seconds.
When the Cochrane reviewers were finally able to look at and sort through the body of information, and not just the abstract data, they came to similar conclusions, and reported that there were
no differences for hospital admissions, reductions in confirmed pneumonia, or other complications
.
However, I don't want to say the drug did nothing, as there were increases in symptoms of nausea (NNH 28), vomiting (NNH 22), and headaches (NNH 32).
Yes, Tamiflu is too good to be true. Patients who have the flu feel bad, they want a drug to help them feel any amount of relief. Sadly, we have nothing for them. We can encourage hydration and rest, but that's about it.
The easy path is to write a prescription for Tamiflu and move to the next patient. The hard path is to discuss why you are not going to write the script to someone who doesn't want to hear it."
When a drug manufacturer can't prove their drug causes a reduction in symptoms for only one hour
(could you ask of any less from a drug?), it's pretty clear the drug is not effective. Try some simple
natural solutions
instead - at least they shouldn't increase nausea, vomiting, and headaches.