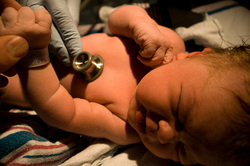 Britain's National Institute for Health and Care Excellence (NICE) recently updated quality care guidelines for childbirth, noting that research shows it is safer for healthy mothers to have their babies at home, or in a birth center, than in a hospital.
"
Women with uncomplicated pregnancies...were better off in the hands of
midwives
than hospital doctors during birth...For these low-risk mothers-to-be, giving birth in a traditional maternity ward increased the chances of surgical intervention and therefore infection, the regulator said."
The difference in safety is related to doctors' frequent use of cesarean sections, episiotomies, and epidurals (which increase the risk of protracted birth that requires forceps and tissue damage). All of these medical procedures carry increased risk of infection and other complications.
For years, doctors have recommended hospital delivery over home or birth center delivery, but the research doesn't support those recommendations for healthy mothers. Compared to the United States, home births are more common in Europe where the government provides health care and there is no financial incentive for doctors to recommend birth at a hospital.
Dr. Jeffrey L. Ecker, the chairman of the committee on obstetrics practice for American College of Obstetricians and Gynecologists noted that if a recommendation for home births were made in the United States, doctors might worry about losing patients to midwives.
Read more of the article in the New York Times
.