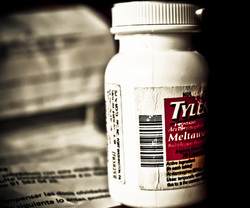 Acetaminophen, sold as Tylenol and other brands, is commonly recommended for back pain, but until now only minimal medical research had been performed to see if it actually helps.
Even
back pain treatment guidelines
recommend acetaminophen as a first-line treatment without any direct evidence of benefit.
To the surprise of many, a study recently found no benefit to using acetaminophen for back pain. Researchers studied over 1600 patients with back pain. The patients were given acetaminophen or placebo pills. The scientists found no significant difference between the groups in
recovery time, pain, disability, function, symptom changes, sleep or quality of life.
With increasing awareness of the significant risks of taking acetaminophen (causing over 50,000 liver injuries in Americans each year), this study gives further support to the recommendation of minimizing use as much as possible.

Medical treatment guidelines offer a better treatment choice for back pain: chiropractic manipulation. Research has found chiropractic treatment to be one of the only options that reduces back pain, improves function, and has minimal risks. Before reaching for that bottle of Tylenol for your back pain, think twice.