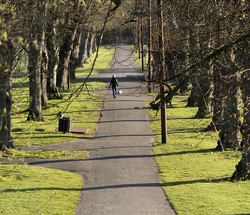 While some mistakenly believe rest is best for knee health when osteoarthritis has developed, recent research confirms that low intensity activity like daily walking helps knee arthritis.

Researchers followed a group of patients who had been diagnosed with knee arthritis over two years. The study compared the amount they walked to a measured reduction in function (less ability to be active) over the two years. A significant benefit was found for those who walked daily compared to those who did not.

How much should you walk to help knee arthritis?

Those who walked at least 5000 steps a day maintained their ability to be active much better, cutting their risk of functional loss in half. For those who have not been active, 3000 steps is a good starting point. Working your way up to 7500-10000 steps each day is even more beneficial. Every 1000 steps equates to about 1/2 mile on average.

Won't too much activity cause wear and tear with knee arthritis?

Our joints are made to stay healthiest when they are moving. Wear and tear comes from extreme levels of activity (or injury), not from low intensity activity like walking. Find a pace that works for you and get moving!