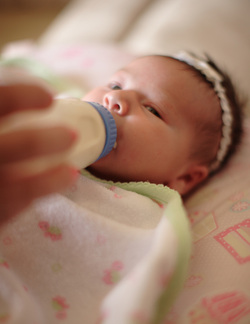 In recent years, researchers have noted potential harmful health effects when using the chemical BPA as an ingredient in plastic baby bottles. BPA is similar to female hormones and can leach from the bottles, accumulating in the body of an infant, and potentially contributing to health problems. Some concerned parents have switched to "BPA-free" plastic baby bottles, but a
new study
finds that these plastic bottles can often leach hormone-like chemicals as well.
Replacing BPA with other chemicals

Recognizing the demand for an alternative to BPA, plastic bottle producers have switched to a variety of other chemical ingredients to replace BPA and market their bottles as "BPA-free". Researchers recently tested common "BPA-free" baby bottle brands (and other "BPA-free bottles) under various conditions to check for the leaching of female hormone-like chemicals.
Heating the bottles (like in a microwave) or exposure to sunlight or sterilizing lights often increased chemical leaching. Using certain dyes to color a bottle even made a difference (some colors protected the bottle from leaching chemicals).
Overall, the researchers were surprised with the number of "BPA-free" plastic bottles that leached other hormone-like chemicals. Click here for a more detailed explanation of the results and to see which brands performed better.



What's in your bottle?



While the focus of public concerns has been largely on baby bottles, it's important to note that these chemicals are also used in other types of drink bottles and coat the inside of cans (to avoid corrosion from contact with food). While the research showed some plastic bottles performed well with testing, it may be safest to use glass or metal bottles, especially when feeding babies.