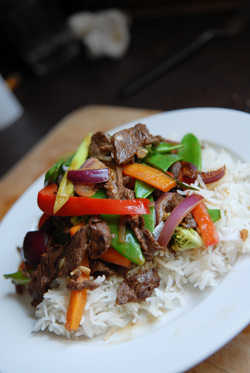 One of the biggest hurdles to eating healthy is time, so here are 7 tips to help you save time while eating better:
Go nuts - a handful of nuts is a great snack that takes no preparation. They have healthy fats and protein to keep you satisfied and full of energy longer; and provide a variety of other great nutrients. Mix it up and include a variety of nuts in your diet.

Make a smoothie - blend together some fresh and frozen fruit, water and a good quality protein powder for a healthy meal that's ready in a minute. Add a spoonful of flax oil or meal for some extra healthy fats. A stick blender keeps cleaning to a minimum.

Produce prep - find a convenient time each week (preferably after your trip to the grocery store) to prepare your produce so it's ready to go. Wash and chop your veggies and fruit and sort them in baggies or containers. With your fruit & veggies ready to go all week, you can have meals ready in half the time.

Stir fry - toss some meat, veggies (already prepped thanks to #3), butter or oil in a pan with seasoning and have a stir fry cooked in 10 minutes. Skipping the rice or noodles will save you time and keep you healthy.

Boil those eggs - eggs are a great whole food to include in your diet regularly. Don't worry about those myths you've heard - eggs are good for you, especially from pastured chickens. Boil some up so you have them ready to go all week.

Toss a salad - pull out those veggies you already prepared, your boiled eggs or other meat, and some good salad dressing. Mix them up and have fun. You just made a great meal in 5 minutes!

Love those leftovers - when you're cooking a great meal, cook more. It doesn't take much more effort, but saves a lot of time the next day.