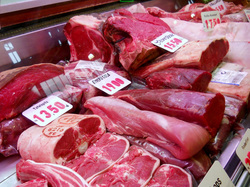 There's good news about store-bought meat just in time for Christmas. This may be one of the best gifts Santa could give us. Two recent changes in the regulation of how meat is raised and sold in the United States should help improve the quality of what we buy in the store.
Bye Bye Antibiotics

The
Washington Post
reports, "The vast majority of antibiotics sold each year in the United States — by
some estimates
as much as 80 percent — are used in agriculture rather than in human medicine... The [FDA] finalized recommendations asking animal drug manufacturers to
voluntarily
alter their labels so that farmers would no longer be allowed to use antibiotics merely to make animals grow faster."
The good news is it will be harder for farmers to feed their livestock antibiotics to make them grow faster rather than treat disease. The bad news is, following the regulations is still somewhat voluntary. Fortunately, pharmaceutical companies seem to be on board. With increasing concerns about the "superbugs" created by antibiotic overuse, it's good to see steps made in the right direction. This should be a healthy improvement for the quality of our meat supply.



Where's This Meat From?
We know what you're thinking: could this day get any better? Yes.
The LA Times reports, "
The meat industry is a global business, but many consumers don't realize how far their hamburger may have traveled to end up on their plates...
New federal labeling rules
...will illuminate that process by requiring meatpackers to list where livestock was born, raised and slaughtered. That's a step up from the current law, which only requires labeling country-of-origin."
Large meatpackers are fighting the new rules, but they don't have much support for why they should keep their meatpacking practices secret. We see a number of benefits to this change:

We'll likely see less mixing of hundreds of animals in one pack of ground beef or burger patty, otherwise how would you label all the places it came from?
Better awareness of globe-trotting meat born in one place, raised on multiple farms, off to an end-of-life feedlot somewhere else, then shipped to a processing plant, and maybe further processed at another one. If all of these places have to be listed, we should see meat change hands much less than it currently does. And farmers should be even better stewards of their livestock to keep them healthy through their lifetime.

The biggest reason from the regulators point of view is probably to better control disease outbreaks, which is difficult when meat has been through so many hands without clear records.
More local meat. Who wants to eat meat that travels more than Santa on Christmas Eve?
It's great to see positive changes that should improve the quality of our food supply, resulting in healthier food options. We wish all a Merry Christmas and a happy t-bone!