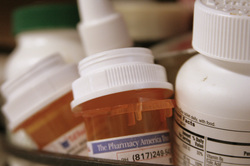 As part of
National Chiropractic Health Month
, we take a look at recent news and research that has highlighted the growing epidemic of prescription drug problems:
CNN's story, "Let's End the Prescription Drug Death Epidemic," reported on the increasing injury and death from prescription medication as Americans consume 80% of the world's pain medication for less than 5% of the world's population. Harvard research published in the Journal of the American Medical Association highlighted increasing medical mismanagement of back pain as doctors continue to increase narcotic pain prescriptions and ignore medical guidelines that recommend safer, more effective options like chiropractic treatment.
A national report on prescription drug abuse ranked Ohio as 12th Highest Drug Overdose Mortality Rate in the US, with most deaths coming from prescription medications.
"Fifty Americans die a day from prescription drug overdoses, and more than 6 million suffer from prescription drug abuse disorders. This is a very real epidemic - and warrants a strong public health response," said Andrea Gielen, ScD, Director of the Johns Hopkins Center for Injury Research and Policy.
What's Going On?
While medical guidelines for back pain have promoted the use of safer, more effective treatments like chiropractic care for years, medical doctors have not been properly educated on these guidelines. At the same time, doctors have been asked to treat pain more aggressively and drug companies have promoted stronger narcotic medications as a good choice.
Experts are finally coming to grips with the epidemic created by prescription drugs and trying to reverse course. Unfortunately, most solutions only respond to the problem rather than trying to prevent it. They focus on closer monitoring of drug prescriptions, increasing drug warnings, encouraging the prescription of different medications, or making rehabilitative drugs more available.
A Better Solution
A few organizations, like the University of Pennsylvania, have decided to actually address the mismanagement of painful conditions. University of Pennsylvania health insurance has patients try chiropractic before trying riskier treatments like narcotics, injections, or surgery. We applaud the University of Pennsylvania and other organizations that are stepping up to better address this growing problem.

You Can Help

Everyone can help. Recommend your friends and family try chiropractic first - it's safe non-drug, non-surgical care. Help them avoid the dangers reported in Ohio's Prescription Drug Epidemic.