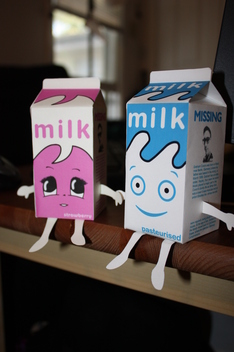 Your child's milk isn't as innocent as it looks.
What's hiding in your child's school milk?
If the Food and Drug Administration approves a
petition by the International Dairy Foods Association and National Milk Producers Federation
, it's going to be harder to find out.
What is "milk"?
These dairy associations have asked the FDA to redefine what "milk" is, so they can add additives without including special labeling. Currently, if milk has been altered to include artificial sweeteners, milk manufacturers are required to label milk as "low calorie" or "reduced calorie" or print similar language on the front of the package. The dairy associations' primary goal is to add artificial sweeteners like aspartame and sucralose without the current required labeling.
It doesn't stop with "milk"
Th
e dairy associations
are also requesting a revision of the definition of 17 other dairy products including yogurt (with help from the National Yogurt Association
of course), to play the same game with those food labels.
Dr. Oz and The Environmental Working Group have a nice explanation of the topic.
Would you define "milk" or "yogurt" as foods that contain artificial sweeteners?
The
research showing potential harm from the consumption of artificial sweeteners
has only grown over the past few years.
Milk is heavily processed as it is - removing fat, homogenizing, ultra-pasteurization, hormone use...
For those who enjoy dairy, we recommend using less processed dairy whenever possible. If you don't like dairy or have trouble digesting it, don't worry. You can get plenty of calcium from eating your veggies, especially dark leafy greens. The best alternatives to dairy are coconut or almond milk (but watch out for sweeteners).