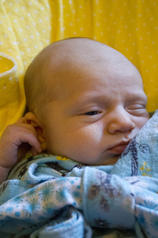 Vitamin D Reduces Recurrent Ear Infections in Kids
A recent study looked out how vitamin D supplements affected children with recurrent ear infections
. Researchers found that the average blood level of vitamin D was lower than recommended in children with recurrent ear infections. They gave some of the children a daily 1000 unit supplement of vitamin D and found those children had significantly fewer episodes of ear infections.
Seattle Children's Hospital Researcher Craig Rubens noted this study confirms that doctors need to pay more attention to nutrition in cases of recurring ear infections.
Many kids with recurrent infections rely on repeated rounds of antibiotics and eventually ear tubes to control the infections. This study highlights the need to look into the nutrition of these kids.
Parents shouldn't fear child exposure to the sun.
Low vitamin D is frequent in our area of Northeast Ohio, especially in the winter, due to limited sun exposure
. Repeated warnings about sun exposure during summer have also contributed to adults and children receiving less than a healthy amount of sun to produce adequate vitamin D. This leaves us more dependent on our foods which do not provide an abundant source of vitamin D.
It's a good idea to have your vitamin D level checked, especially if noticing recurrent ear infections.