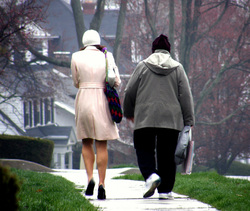 Here's a roundup of recent natural news stories on kidney stones, pacifiers & allergies, and hungry shoppers:
Exercise Cuts Kidney Stone Risk
A recent study found physically active women had about a 30% lower risk of kidney stones compared with women who reported no exercise
. While more exercise activity during the week decreased the risk further, the intensity of the exercise did not matter much. Even those who performed light exercise had a significant reduction in the risk of kidney stones.
The study also found a higher BMI (body mass index) or increased energy intake (eating more) increased the risk of developing kidney stones. This study confirms previous research that found healthy habits significantly lower the risk of developing kidney stones. Regular exercise (even gentle low intensity exercise) and a healthy diet help reduce systemic inflammation and associated problems like kidney stones.
Pacifier-Sucking Parents Reduce Child Asthma & Allergies