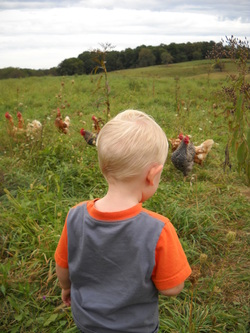 Sometimes to find the best food, you have to go straight to the source - the farm.
Healthy food comes from healthy farms that raise produce & animals without chemicals or unnatural practices. We're fortunate to have a growing list of farms around Canton & Stark county that care about the food they produce. Unfortunately, it's not always easy to find these farms.
We've done the work for you. Explore our list of local farms for chemical-free produce & animals, grass-fed beef, pasture-raised poultry & eggs, minimally processed dairy, and other farm fresh products.
We recently added two local farms that are a great addition to the group:
Creekview Ridge Farm
is in its first year of production in Minerva, Ohio. They are starting a CSA and attending the North Canton and Alliance farmers' markets. You buy a "share" for a certain length of time (typically the summer and/or fall season), and they deliver a week's worth of fresh vegetables in season (or eggs) to a drop off in North Canton or at McMichael Chiropractic every week. "It's a cool way to learn about new vegetables, see who is growing them and form a relationship with farmers who are very passionate about their mission."
Brown Bros. Farm
is located in Paris, Ohio and provides chemical-free, pasture-raised poultry. "Our birds are given full access to the outdoors were they can eat as many bugs, grass, etc. that they desire. The only time our birds are penned up is at night for protection from predators. Our birds are raised and processed without any chemicals, antibiotics or growth hormones." They sell chicken, chicken burgers, chicken bratwurst, and turkey.
Take advantage of our great local resources to provide the healthiest food for you and your family. You can often find these products at local farmers' markets, but it's always a good idea to visit the farm you buy your food from so you can see how it's raised and where it's coming from.
Find more local farms around the country at
www.localharvest.org
.